As a distribuor of company CarboTech AC GmbH we offer a wide spectrum of Carbon Molecular Sieves (CMS).
CarboTech AC GmbH is the inventor of CMS - and still one of the leading producers of CMS for Pressure Swing Adsorption-plants in the world. Its wide product range provides high quality performance CMS for a diversity of PSA applications. With focus on coal based grades, CarboTech AC GmbH offers products of an outstanding price/performance ratio for PSA-based nitrogen generation, biogas upgrading, nitrogen rejection and hydrogen refining.

The customer benefits are:

- Excellent performance of the carbon molecular sieves
- Outstanding product quality made in Germany
- Impressive mechanical properties (high hardness, low dust formation, no fines)
- Comprehensive service, including short lead times and competent advice

Quality promise of CarboTech´s CMS is justified by numerous references from all over the world - and rooted in almost 40 years of accumulated know-how and experience.
In addition to Carbon Molecular Sieves, CarboTech AC GmbH provides on request basic expertise for many applications with the aim to achieve the best technical solutions. CarboTech AC GmbH also maintains a close relationship to manufacturers of Zeolitic Molecular Sieves (ZMS). It can therefore supply CMS, ZMS and similar adsorptive materials in combination with its know-how and expertise.
The PSA process for nitrogen generation is divided into two phases. In the initial phase, the Carbon Molecular Sieve adsorbs oxygen from compressed air, which contains 79 % nitrogen and 21 % oxygen. During this stage, the pure nitrogen can be withdrawn as product gas at the adsorber outlet. In the second phase, the oxygen is released at low pressure - and the next cycle can start.
The interconnection of two adsorber vessels, which are alternately charged with compressed air and de-pressurised, allows the quasi-continuous generation of high purity nitrogen.
The PSA process offers a low cost, on-site supply of gaseous nitrogen for the blanketing of storage tanks, pipelines and tankers, the processing of plastics and fibres, the storage and packaging of perishable foods and beverages, the heat treatment of metals, or applications in the electronics industry.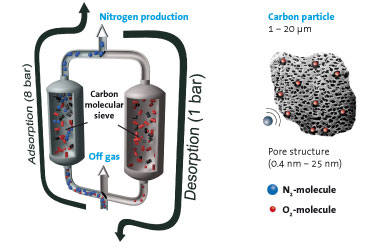 You can receive further information about the products for PSA technology sending a request to our company.